Introduction
CS Wall is our VPN service which is available to both staff and student users of Computer Science.
The aim of this service is to provide secure and private communication to CS network services from remote locations.
To use the CS Wall service you must have a CS user account. Staff have access to staff network services whereas  students have access to student network services only.
When connected to CS Wall you must abide by the UCL Computer Regulations and JANET Acceptable Use Policy.
It is important that your system is protected against security threats and the pages below offer further advice:
10 basic security recommendations
Available Clients
Windows – 7/8/8.1/10 (for both 32 bit and 64 bit clients)
Mac OSX – 10.5 and earlier to 10.6 and above
Android and iOS Devices
Windows Mobile Devices
Linux – Centos and Scientific Linux 5,6,7 and Ubuntu 14.10, 15.04
Download the Client
Latest Client:
Please login to the below link using your departmental (CS) username and password to install the latest VPN Client:
Older Clients
For older clients there were some reported issues with the OSX Installer not working on the OSX versions starting from 10.9.5 and 10.10. If the above installer does not work please download the Sonic Wall Mobile Connect client from the Apple Store.
Configure your personal firewall
If you have a personal firewall, you may need to open these internet ports. You should be able to create a customised rule for these services:
TCP port 80
TCP port 443
You may have to contact your ISP (Internet Service Provider) if these ports are blocked on your wireless router or if they are blocked centrally by the ISP.
Please refer to your firewall's help files, as rule creation methods differ between applications.
Windows 7/8/8.1/10
Open any browser and go to the download page from the Download Link
It will show you the below screen: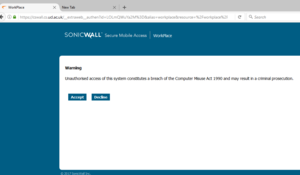 Please accept the fair usage policy and login using your CS Departmental Windows username.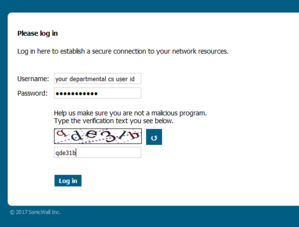 Once you login, you can see the link to download the client by clicking on the link Install Connect Tunnel 12.1.0,224 as shown below: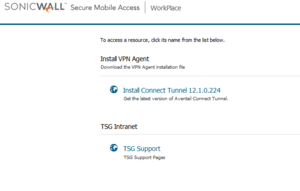 Save the setup file and double click on it from the saved location: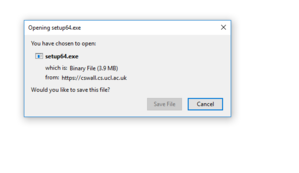 Once you double click it will start installing.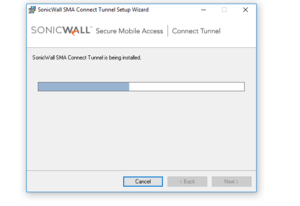 Windows 10 Users
If you double click on the shortcut on the Desktop called SonicWall VPN Connection, it will display a client similar to the one in the picture below. Please double click to open and configure it.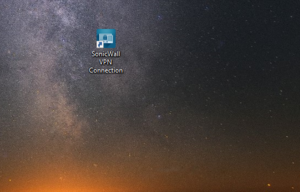 Once you open the client it will display a welcome page as shown below. To continue please click Next: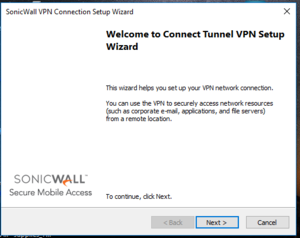 Enter the hostname of the VPN server as cswall.cs.ucl.ac.uk and click Next.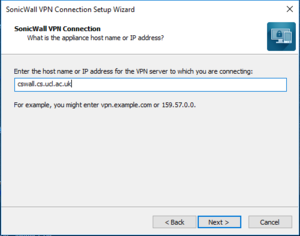 Please select or enter your login group as Staff or Student.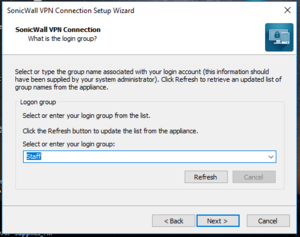 One its configured, click on Finish.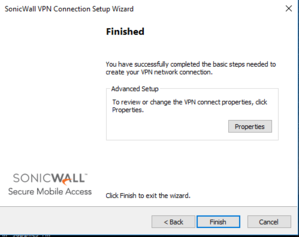 Once you click on Finish it will ask you for your username and password. Please enter your CS Departmental Windows username.
Note: This username is provided by TSG in the Department of Computer Science (can also be referred to as user-id). Please email request@cs.ucl.ac.uk if you need a CS username. Do not be confused with your main UCL username that is provided to you by HR (or ISD).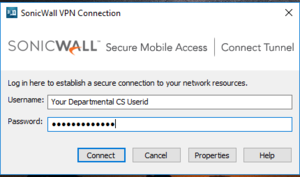 Please accept the fair usage warning as shown below: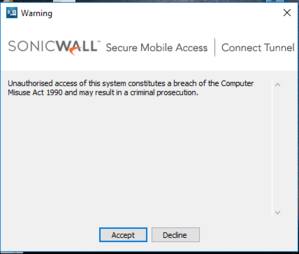 Once you enter your username you will be connected and will see something in the system tray on the right-hand side bottom corner similar to: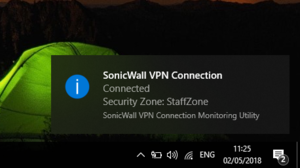 Once you've finished using the VPN you can disconnect by right clicking on the tray icon and selecting disconnect as shown below: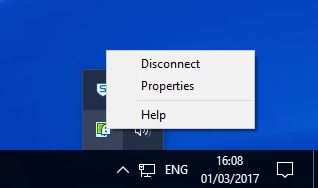 MacOS/OSX
Linux
Mobile Devices
FAQs
Q: I have upgraded my Windows to Windows 10, will the client for Window 8/8.1 work on Windows 10?
A: Follow the instructions under the Windows section above to download the latest client (for Windows 10).
Q: I was connected to the VPN client on my Windows 10 and it was working fine. But now when I am trying to connect I am getting this error: "VPN connection cannot be established as the modem is not found"
A: The only solution to resolve this problem right now is to restart the PC. This error occurs when a Windows System goes to sleep mode abruptly or if the previous connection is not terminated properly.
Q: I was able to download and install the client properly but when I am trying to connect I am getting this error: "VPN Server not reachable"
A: Please check the following:
Your personal firewall settings and make sure the ports 80 and 443 are not blocked
Check if your antivirus program has any firewall that is blocking the ports above
Check that your wireless router or ISP (Internet Service Provider) is not blocking ports 80 or 443
Q: I am connected to the VPN but I cannot connect to my home drive.
A: While connected to VPN use an FQDN (Fully Qualified Domain Name) to connect to a Windows share. For example you cannot access your home drive as \\smbhelp\userid but rather you should use \\smbhelp.cs.ucl.ac.uk\userid
Q: I am still using Windows XP and is there a VPN client available for Windows XP?
A: Windows XP is not supported by Microsoft and therefore considered a security risk. You must upgrade to at least Windows 10 before using the VPN.